Democratic Party history from the year you were born
Stacker examined historical documents, newspaper articles, government records, and other accounts to trace a history of the Democratic Party from 1931 until today. 
TownNews.com Content Exchange
Democratic Party history from the year you were born
1931: Democrats take control of Chicago
1932: Roosevelt elected president
1933: Congress passes Emergency Banking Act
1934: Roosevelt creates the Securities Exchange Commission
1935: Roosevelt enacts Social Security
1936: Roosevelt wins second term
1937: FDR tries to pack the Supreme Court
1938: Democrats lose in midterm elections
1939: Roosevelt signs Neutrality Act
1940: Roosevelt wins third term
1941: 'A date which will live in infamy'
1942: Roosevelt authorizes internment camps
1943: FDR, Stalin, Churchill meet
1944: Roosevelt signs G.I. Bill
1945: Truman approves atomic bombing of Japan
1946: Democrats lose Congress
1947: Marshall Plan is proposed
1948: Truman gets elected
1949: NATO established to counter Soviet Union
1950: Korean War
1951: Presidents are limited to two terms
1952: Kefauver outmaneuvered at convention
1953: McCarthy pursues Communists
1954: Democrats take control of Congress
1955: Johnson has major heart attack
1956: Eisenhower beats Stevenson again
1957: Civil Rights Act approved
1958: Democrats see big Congressional wins
1959: Democrats torpedo Cabinet nomination
1960: John F. Kennedy elected president
1961: Lyndon Johnson becomes vice president
1962: Cuban missile crisis begins
1963: Kennedy is assassinated
1964: Congress passes Civil Rights Act
1965: Johnson proposes greatness
1966: Anti-war protests grow
1967: Riots erupt across the country
1968: King and Kennedy assassinated
1969: Americans walk on the moon
1970: Chisholm publishes autobiography detailing firsts
1971: Nixon installs taping system
1972: Nixon trounces McGovern
1973: Jordan goes to Congress
1974: Detroit elects a Black mayor
1975: Chicago's Daley wins a sixth term
1976: Carter defeats Ford for president
1977: Carter creates energy department
1978: San Francisco mayor and supervisor assassinated
1979: First woman elected mayor in Chicago
1980: Carter loses to Reagan
1981: Hunt Commission creates superdelegates
1982: Cuomo wins gubernatorial race
1983: Chicago elects first Black mayor
1984: Ferraro joins Democratic ticket
1985: Bipartisan effort to balance the budget
1986: Iran-Contra affair is revealed
1987: Congress overrides Reagan's veto
1988: Texas' Richards speaks at convention
1989: First African American is elected governor
1990: Dinkins becomes New York's mayor
1991: Democrats approve Operation Desert Storm
1992: Clinton wins presidency
1993: Another Clinton leads health task force
1994: Democrats lose control of Congress
1995: Barry begins fourth term as mayor
1996: Clinton is re-elected
1997: Clinton eliminates budget deficit
1998: Clinton is impeached
1999: Clinton is acquitted
2000: Gore loses to Bush in disputed election
2001: Terrorists attack World Trade Center, Pentagon
2002: Carter receives peace prize
2003: Blagojevich becomes Illinois governor
2004: Kerry loses presidential bid
2005: Democrats challenge Ohio's votes
2006: Democrats win back Congress
2007: Virginia Tech massacre spurs call for gun control
2008: Obama elected president
2009: Obama wins peace prize
2010: Affordable health care becomes law
2011: Giffords shot in Arizona
2012: Obama wins second term
2013: 'Trayvon Martin could have been me ...'
2014: Obama signs LGBT protections
2015: Obama introduces clean power plan
2016: Democrats nominate Clinton for presidential race
2017: California sues Trump
2018: Russians indicted in connection with 2016 campaigns
2019: House Democrats impeach Trump
2020: Biden beats Trump
Tags
TownNews.com Content Exchange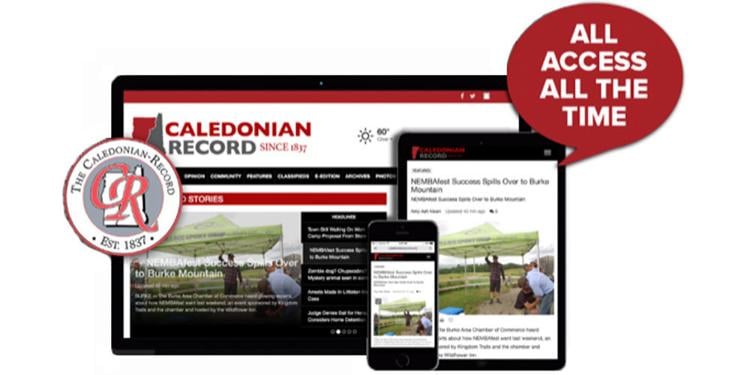 Become A Subscriber
A subscription opens up access to all our online content, including: our interactive E-Edition, a full archive of modern stories, exclusive and expanded online offerings, photo galleries from Caledonian-Record journalists, video reports from our media partners, extensive international, national and regional reporting by the Associated Press, and a wide variety of feature content.
In 2020, these athletes overcame historic challenges to rise to the top of their sports. These our athletes of the year.
Here you'll find our latest collection of Caledonian-Record reports on the coronavirus outbreak and local response, from the beginning of May.
Here you'll find our latest collection of Caledonian-Record reports on the coronavirus outbreak and local response, from the beginning of April. Our January, February and March stories are here: https://www.caledonianrecord.com/news/local/our-coronavirus-coverage/collection_5885178c-692e-11e…
Here you'll find our collection of reports on the coronavirus outbreak and local response, from January, February and March. Our most recent coverage is at https://www.caledonianrecord.com/news/recent-coronavirus-coverage/collection_c56580a8-7f7c-11ea-b0cd-732a2e7b3384.html