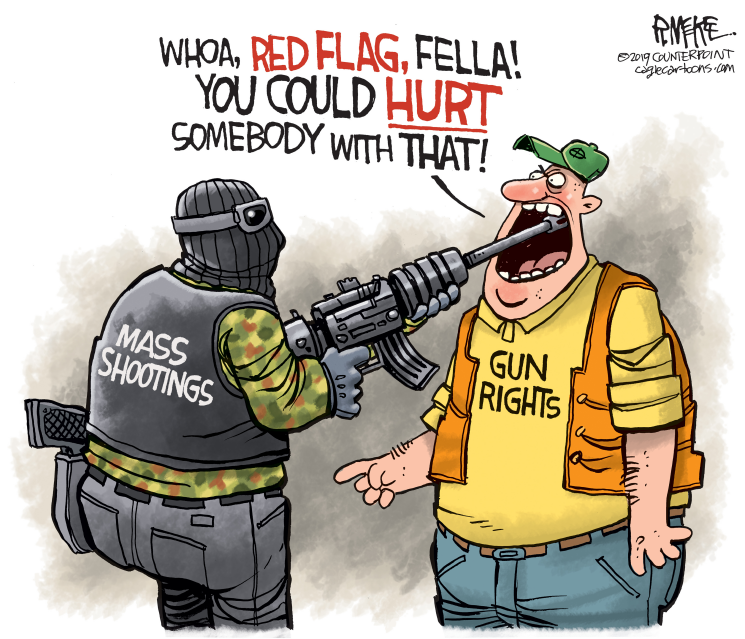 It's been a week since 31 people were murdered in two mass shootings within 24 hours. Despite numerous differences between the two horrific incidents in El Paso, Texas and Dayton, Ohio, there was a crucial common denominator: hysterical public reaction.
A few public officials offered tepid platitudes of thoughts and prayers, but then a tipping point on gun violence debates was reached. Dry kindling was collected over the last few weeks, as the president criticized the congressional "Squad," then Baltimore, and then Elijah Cummings. But the weekend massacres lit the raging bonfire, and politicians and pundits came running with their own cans of kerosene.
I watched Beto O'Rourke rage against Trump the White Supremacist, waving his arms like a makeshift windmill from a dinner theater production of Man of La Mancha. I listened to cable news "journalists" like Nicolle Wallace on MSNBC, who claimed that the president wanted to "exterminate" Latinos (she later apologized). I read as Reza Aslan, a former contributor to CNN, tweeted to the president's adviser Kellyanne Conway that she was the "depraved evil" that should be "eradicated." These are just a few examples of the cultural meltdown.