Area New Hampshire girls basketball preview capsules, as reported to the Caledonian-Record: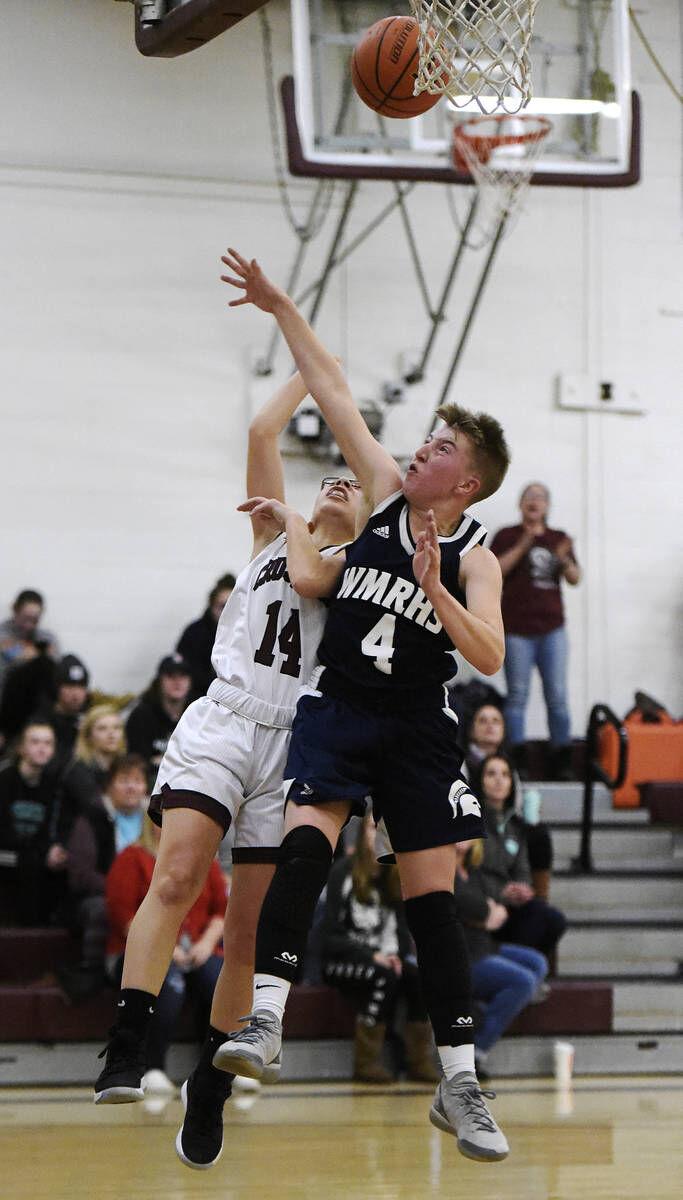 Coach: Chris Foss (first season; previous three seasons as JV Coach)
Assistant Coach: Aaryn Ford (first season, also the JV coach)
Last Year's Record: 15-5, lost to Newfound in the second round
Graduation Losses: Mackenzie Treamer, Avi Challinor, Jaycee Murray, Danica Watson, Maddy Huntoon
Returnees: Lily Kenison, Sr., G; Alyssa Fryman Sr., G/F; Kelsey Graham Sr., F; Dahlia Whitcomb Sr., F; Morgan Doolan, Jr., F; Olivia Shallow Jr., G; Carissa Challinor Jr., G/F; Jaylin Bennett Soph., F.
Newcomers: Gracie Ingerson, Jr., F; Isis Kelm, Jr., F; Hannah Smith, Soph., G; Ava Simpson, Fr., G.
Players To Watch: Lily Kenison: Scoring — driving to the hoop and shooting the 3 — and ballhandling. Alyssa Fryman: Defense and rebounding. Kelsey Graham: Scoring — mid-range jump shot.
Season Outlook: "We have two returning starters from last year's team and most of these girls have been playing together for several years now we have a nice mix of returning players that are meshing well with the newcomers," Foss said. "The girls have been working hard this preseason and we are expecting results from all of them in order to be a deep team. Our goals for the season are to keep working hard in practice, and do the little things right on the court and continue to build off last year's season. We are looking forward to another solid season and making a run in the playoffs."
Coach: Duane Call (first season; assistant coach for 12 seasons)
Assistant Coaches: Katie Parker (19th season) and Kristen Wheelock (first season)
Last Year's Record: 23-0, D-IV state champions
Graduation Losses: Mackenzie Scherer.
Returnees: Sage Smith, Sr., G; Samantha Howe, Sr., F; Alexis Inkell, Jr., G; Ariana Lord, Soph., C; Sierra Riff, Soph., G; Emma McKeage, Soph., G; Sara Fernald, Soph., F; Shyanna Fuller, Soph., C.
Newcomers: Johanna Kreis, Jr., F Sabrina Tallmage, Fr., G.
Players To Watch: Sage Smith: The returning D-IV Player of the Year has worked very hard in the offseason to improve her speed, strength, ballhandling and shooting abilities. Smith is a threat to score from anywhere on the floor and her defensive abilities continue to improve every year. Smith also is a very good rebounder for her size. Samantha Howe: A D-IV first-team All-State player last year, Howe has also developed into a scoring threat from anywhere on the floor. Her size, athleticism and quickness on the defensive end allows her to play multiple positions in our defensive schemes. Howe is a tenacious rebounder on both ends of the floor, averaging a double-double for her career.
Season Outlook: "The Mohawks are excited to get a chance to defend last year's state championship," Call said. "The team returns four starters, but the big challenge will be trying to replace the loss of Mackenzie Scherer and all she provided last year's team. The Smith/Howe duo will be the focus of every team, but how the remaining players develop into their roles this year will define our season. Although still young, the sophomores have a lot of experience playing in big games, which should help take some of the pressure off Smith and Howe. The players are working hard and it looks like we may be able to go deeper into our bench than last year. As every year, we will be playing a difficult North Country schedule, which will help prepare us for the playoffs."
Coach: Dale Prior (16th season, 20th overall)
Assistant Coach: Kelly Hadlock (8th season)
Last Year's Record: 15-6, lost to eventual champion Colebrook in the semifinals
Graduation Losses: Jasmine Brown, Jacqueline Maker, Kaitlin Horner.
Returnees: Hannah Brown, Sr., G/F; Olivia Corrigan, Sr., G; Nathaly Rossi, Sr., G; Nicoria Johnson, Sr., F; Lauren McKee, Jr., G; Kaylee Manzella, Jr., F; Madeline Carbonneau, Jr., F; Jamielee Lamarre, Jr., F.
Newcomers: Jocelyn Cosentino, Sr., G; Angelina Shafer, So., G; Anna Rochefort, So., G; Lauryn Corrigan, Fr., G; Madison Lucas, Fr., F; Makenna Reed, Fr., F.
Players To Watch: Hannah Brown: Most experienced player, versatile with both guard and forward skills. Olivia Corrigan: Great on-ball pressure defender, athletic and an outside shooter. Lauren McKee: Best returning scorer, three-point threat and athletic. Nathaly Rossi: Great defensive player and strong rebounder. Kaylee Manzella: Aggressive, athletic and a potentially consistent scorer.
Season Outlook: "Every season we graduate good kids who played significant roles and yet the next group of kids steps up to fill those voids," Prior said. "This group will be no different with eight returning players and the skills they bring to the team. What we lack in height, we gain in quickness, which we will utilize to the best of our ability. With a strong group of teams in the North Country, we will be tested every game on our schedule, which will only make us stronger come playoff time. This basketball season will be unique in many ways from start to finish. What's important is the kids get an opportunity to compete and regain some sense of normalcy by having a season. Learning every day, dealing with the adversity that will no doubt arise, and appreciating the opportunity will be keys to our success."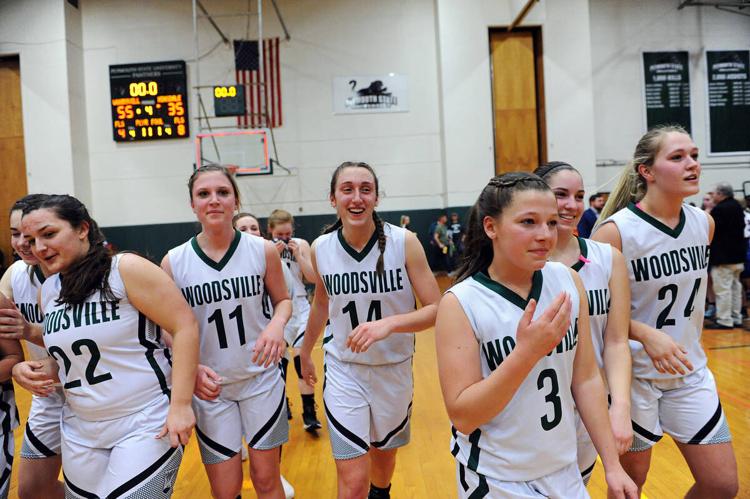 Coach: Russell Wilcox (seventh season)
Last Year's Record: 19-2, lost to Colebrook in the championship game
Graduation Losses: McKenzie Dennis, Kendra Leno.
Returnees: Emily Prest, Sr., G; Olivia Sarkis, Sr., F; Morgan Wagstaff, Sr., G; Graci Kaiser, Sr., G; Emily Farr, Jr., F; Leah Krull, Jr., G; Maddie Roy, Jr., G; Mackenzie Kingsbury, Jr., G; Anna McIntyre, Jr., F
Newcomers: Brianna Youngman, Soph., F; Abigail Crocker, Soph., G; Aliza Boutin, Soph., G.
Players to Watch: "Whatever five we put on the floor," Wilcox said.
Season Outlook: "We return three All-State stars, the defensive player of the year, a sharpshooting junior guard and a crew of nine that know the system," Wilcox said. "Our defense should be good enough to keep us in all games. If we can be consistent shooting the ball we could be pretty good. Our real outlook is to get the kids on the floor for as many practices and games as possible. While a championship run is always the goal, this season makes you realize that just playing together is the greatest goal."
Coach: Tim Haskins (15th season)
Assistant Coach: Alan Wheelock (15th season)
Last Year's Record: 15-7, lost to eventual-champion Colebrook in quarterfinals
Graduation Losses: Katelyn Desilets, Bethany Whiting, Lauren Tyler
Returnees: Nodia Davenport, Sr., G; Emmalee DeBlois, Sr., F; Mackenzie Pape, Jr., G; Marissa Kenison, Soph., F/G; Julie Glover, Soph., G; Madison Ash, Soph., F
Newcomers: Juniors: Emily Schafermeyer, Jr., G/F; Ali Garcia, Jr., G; Katherine Bushey, Soph., F; Paige Lambert, Fr., G, Haley Savage, Fr., F; Aspen Clermont, 8th, G.
Players to Watch: Nodia Davenport was a second-team All-State guard last year who scored just over 10 points per game She will be counted on as one of the team's primary scorers and ballhandlers again this year. Having graduated two starting forwards last year, Emmalee DeBlois will need to be Groveton's "go-to" player in the post and will need to rebound on defense. Marissa Kenison will move into the starting lineup after being last year's sixth man. She has potential as both an inside and outside scorer and will help with ballhandling duties.
Season Outlook: "With a pared-down schedule and no real "standings," every team can see the season as developmental with a goal of being "playoff ready" when the time comes," Haskins said. "We have several new pieces to fit together as far as starters and first subs off the bench, but I like the nucleus of our team and think we will continue to be competitive. Our new personnel may give us a little different philosophy on each end of the floor — last year we had an offensive lineup conducive to pounding it at the hoop and on D packing the lane. We may need to open it up a little on the perimeter on both ends this year."
Coach: Brad Weekes (fourth season)
Assistant Coaches: Reed Weekes (third season); Olivia Cunningham (third season); Bob Burrill (first season)
Graduation Losses: Sadie Young.
Returnees: Zoë Liva, Sr., G/F; Mya Brown, Fr., G/F; Maddie Koehler, Fr., G/F; Alyiah Laleme, Soph., G.
Newcomers: Morgan Presby, Fr., G/F; Dana Sekelsky, Fr., G; Addison Koehler, 7th, G; Kyah Knight, 8th, F; Jaslene Fogarty, 8th, G/F; Bailey Verret, 7th, G.
Players to Watch: Mya Brown: Scoring, ballhandling, defense. Maddie Koehler: Defense, rebounding, aggressive. Zoë Liva: Defense, Aggressive.
Season Outlook: "Our goals and expectations are to grow from last year," Weekes said. "We were young last year and still young again this year. We started to make strong improvements towards the end of the year. Based on the first couple of practices the younger girls are learning fast. I'm hoping that we will win a few games this season and really grow as a team! This year for playoffs is going to be different since everyone will make it. I'm hoping we can get a good draw and advance far into the playoffs."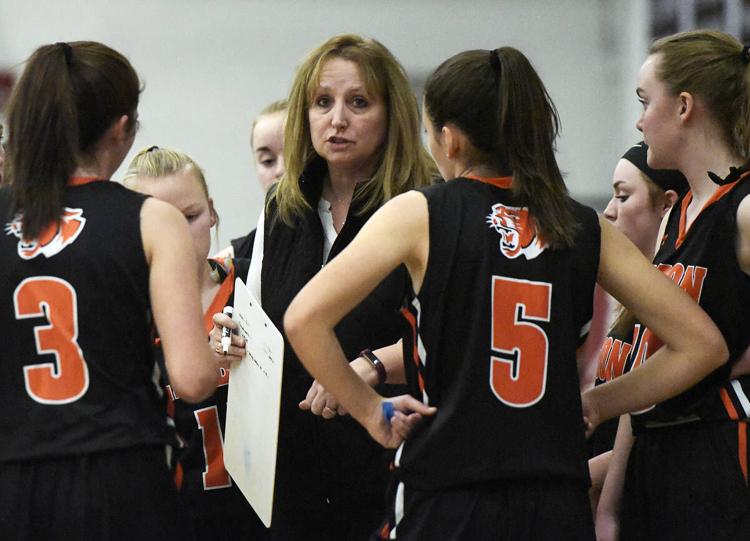 Coach: Nikki Woods (fourth season)
Last Year's Record: 7-11, lost to Sunapee in the first round
Graduation Losses: Chloe Houston
Returnees: Aiden Jesseman, Sr., G; Peyton Clark, Sr., F; Moriah Jellison, Sr., F; Sara Brown, Jr. G/F; Kiley Hill, Jr., G; Kendal Clark, Jr., G/F; Tori Jellison, Soph., F; Kaitlyn Clark, Soph., G.
Newcomers: Amy Wall, Fr., F; Emma Van Scyoc, Fr., F; Natasha Holbrook, 8th, F; Linnea Trudell-Pokropowicz, 8th, F.
Players to Watch: Aiden Jesseman controls the game from the point along with a strong outside shot that has shown great improvement. Sara Brown works hard and forces turnovers. An overall athletic talent. "This year, we have a core group of girls that work well together and provide their own talents," Woods said.
Season Outlook: "With most players returning, I see us working through the regular season, improving each game and getting ready for playoffs," Woods said. "The girls will see a good amount of playing time so we can keep fresh players on the court in order to apply lots of pressure."