Resilient. Relentless. Remarkable.
In a season like no other, the Littleton girls soccer team was truly one-of-a-kind.
The Crusaders on Nov. 8 erased a 2-0 halftime deficit against defending champion Sunapee, then ultimately triumphed 3-2 (4-3 in penalty kicks) to seize the Division IV crown.
The come-from-behind victory was historic — Littleton becoming the first New Hampshire girls team to rally from a two-goal deficit and win a championship in 126 state finals.
"Amazing," fourth-year LHS coach Clinton Brown said.
The championship capped a dominant, undefeated run in which the Crusaders sidestepped adversity during a COVID-19-altered season to claim the program's second title and first since 2012.
But the 2020 season was never easy for Littleton and its six seniors — Olivia Corrigan, Hannah Brown, Carrie Meunier, Jaiden Ridlon, Nathaly Rossi and Jocelyn Cosentino.
"Setting aside the pandemic, we didn't think we'd make it this far. We had a bunch of graduation losses," coach Brown said. "Then we were skeptical we would even get a full season in with COVID, especially at the end when Colebrook had to bow out. That got us wondering if we were going to play the finals. We even talked to the seniors about their senior game midway through the season; the way things were going, we weren't sure if they would have a senior day.
"But the girls were pretty determined that they were going to finish it out. And they sure did. These girls are great."
Littleton trailed Sunapee 2-0 at halftime of the state final. It was the Crusaders' largest deficit of its season.
"The girls were pretty upset at halftime and were very emotional about how things were going," coach Brown said. "But everything we talked about was all mental. Down or up, we talked about mental strength.
"Then, we formulated a plan."
Brown switched formations from a 4-3-3 to a 4-4-2 to gain an extra midfielder.
"It's not all me; I have a great assistant coach [Tristan Tuite]," Brown said of the tactical change. "The girls make us look good for sure. They are very determined and very smart in the game, that when we had to make a change, we were confident we could."
And they did. Corrigan, the team's leading scorer, brought the Crusaders within 2-1 in the 50th minute.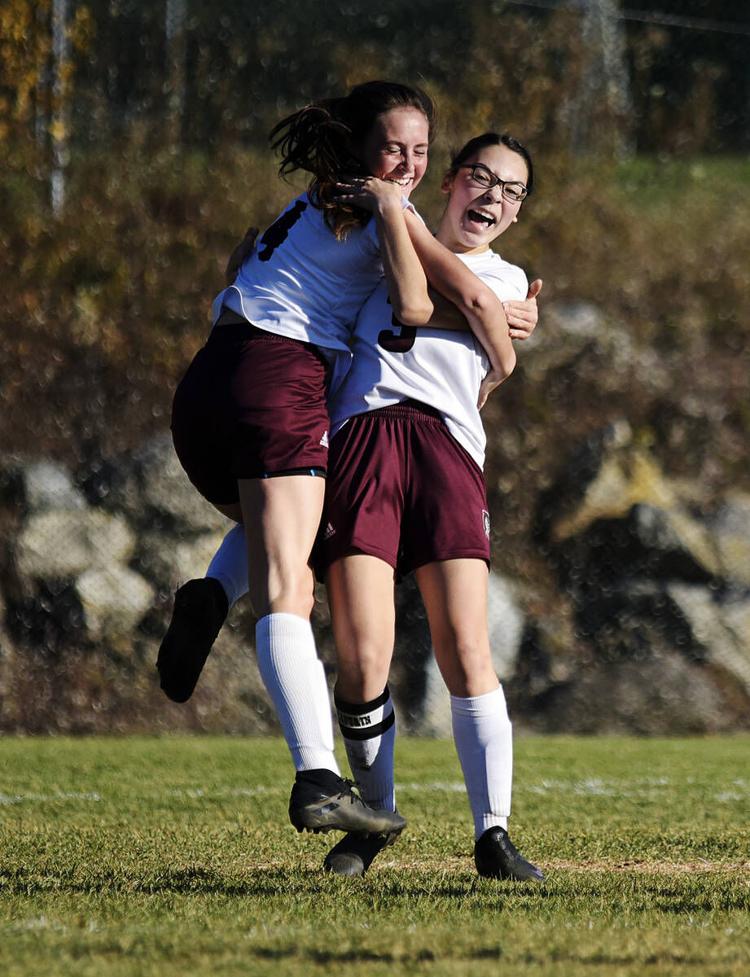 "What Tristan and I always talk about is a 2-0 lead is the worst lead to have," Brown said. "Once a team pokes one in, it's all momentum. We had never faced a 2-0 deficit this season, and once we saw 2-1, the momentum picked up. It accelerated us."
It sure did. Ten minutes later, Meunier headed home the equalizer to make it 2-all midway through the second half.
"These girls have been around each other and the sport for so long," Brown said. "They understand the game so well and just do it on the fly, and they don't even realize it. Just so much fun to watch."
Scoreless through the remainder of regulation and two 10-minute overtime periods, the game went to penalty kicks.
With the shootout tied 3-3, Brown chose freshman Kaitlyn Ilacqua as his team's seventh shooter.
Admittedly "terrified," Ilacqua went through her routine — the same one she had perfected during the team's PK drills — then fired the ball off the crossbar and in.
Brown never doubted the ninth-grader.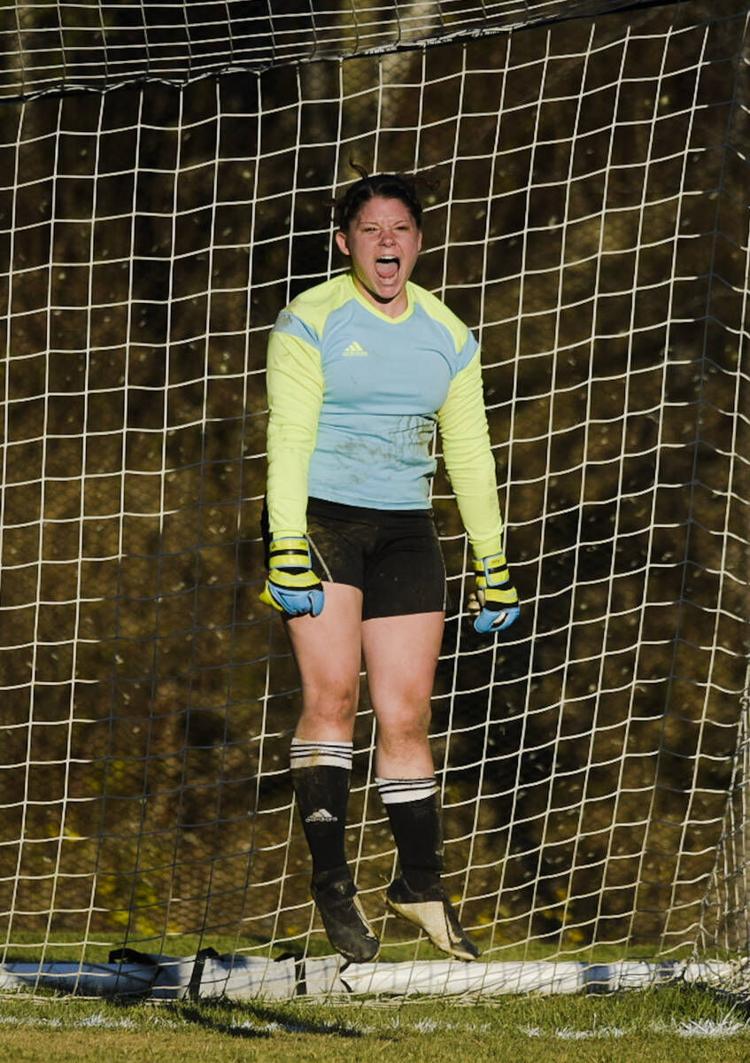 "I don't think she really gets rattled," he said. "I like her commitment, her confidence, and what she showed me in practice."
Sunapee had a chance to tie, but Lakers junior Sophia Varian failed to convert — twice.
Littleton junior goaltender Emily Mainous denied the first attempt, but the referees determined she had moved forward before the shot.
It didn't matter. Mainous stopped the second attempt, let out a yell and was quickly mobbed by teammates.
"Just pure joy," Mainous said.
It was a spectacular performance by Mainous, who took over in goal for the Crusaders this season. She held Sunapee scoreless for the final 60 minutes, including a critical second-half save that kept the game at 2-0. She then made four straight stops to end the shootout.
"Emily was unreal," Brown said. "I gave her the game ball. I have never given anybody a game ball, but she deserved it.
"She's a commander back there. She was so good."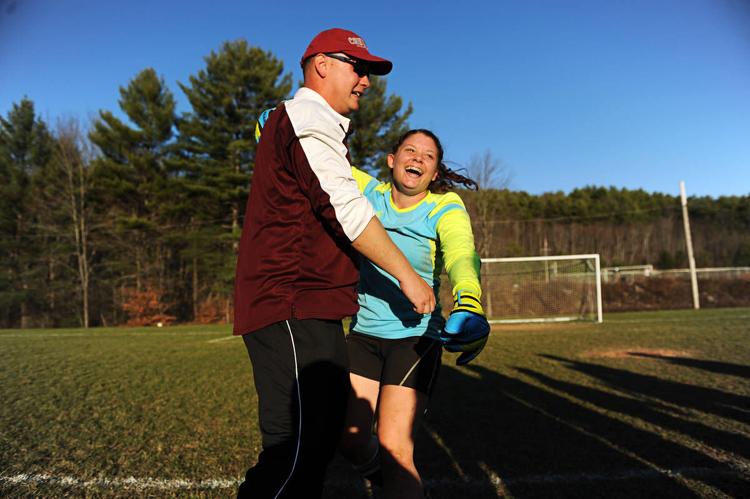 As were the Crusaders — all season long.
Despite graduating seven seniors, including six starters from last year's semifinalist team, Littleton went 10-0 this regular season while outscoring its opponents 55-4.
About halfway through, coach Brown knew an impressive season was brewing.
"We were playing well," he said. "The older players were meshing well with the younger players. And we had totally different vibe than last year; it just felt different. In getting responses from other teams, they thought this year's team was better than last year's team."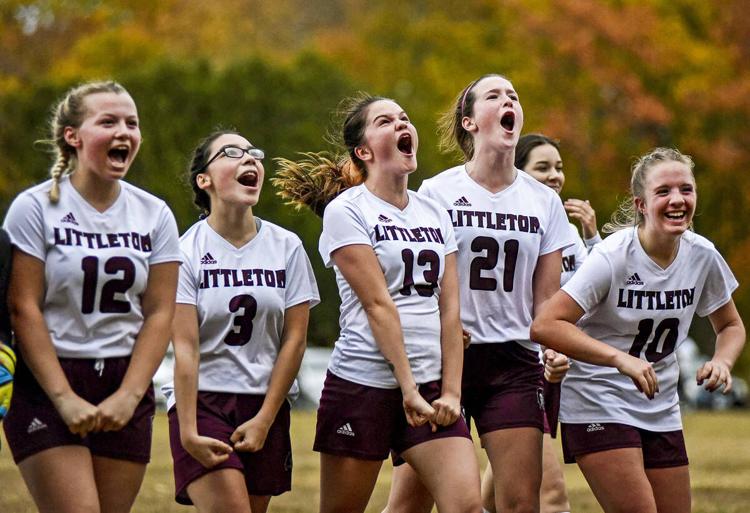 Littleton, however, didn't catch a break in the postseason. After a randomly-generated playoff draw, the Crusaders got the No. 5 seed in a four-team region. They had to compete in a play-in game and didn't get a home game.
Instead, they traveled nearly 600 total miles in wins over Pittsburg-Canaan, Gorham, Groveton, Moultonborough and Sunapee.
In the latter, they persevered, overcoming a two-goal halftime deficit against the powerhouse Lakers.
And that's why, when Mainous made the final save in the penalty shootout, the Crusaders celebrated appropriately — the girls screamed, cried and hugged as they tumbled to the turf as champions.
"It means so much because we had worked so hard to get there, and to be apart of that experience is just so amazing," Mainous said. "I will never forget this. To be part of something so big. I'm forever thankful for this season."
Added coach Brown: "They are always kidding around, always pushing my buttons. I'm all business and the girls just made it a fun experience. This is what happens when you have fun."
Fun and fierce, the 2020 Crusaders are forever etched in history.
"I never thought that we'd be undefeated, let alone be state champs," said Corrigan, the Granite State Conference North Player of the Year and career 100-point scorer. "It makes me so happy and grateful for my team and coaches that I will deeply miss.
"I couldn't be happier. This was such a huge accomplishment."
Paul Hayes contributed to this story.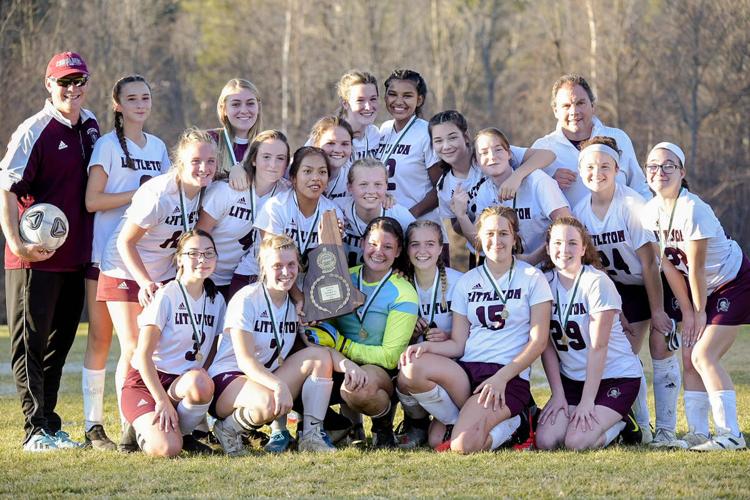 5 Anna Rochefort MF Soph.
23 Jamielee Lamarre MF Jr.
28 Jocelyn Cosentino F Sr.
29 Hannah Whitcomb MF Fr.
Head coach: Clinton Brown
Assistant coach: Tristan Tuite