Patrick Greenan first noticed redness and swelling in his left arm on Christmas Eve.
A week later, the St. Johnsbury baseball star was in an ambulance headed to Dartmouth-Hitchcock Medical Center.
The diagnosis: Venous thoracic outlet syndrome.
The hard-throwing St. Lawrence University southpaw developed a blood clot in his pitching arm, a symptom of VTOS, and it required immediate attention.
The 21-year-old college senior is on the mend after a six-day stint in the hospital, including two minor procedures to dissolve the blood clot over the weekend and successful surgery on Monday — doctors removing his first rib and a muscle near his collarbone.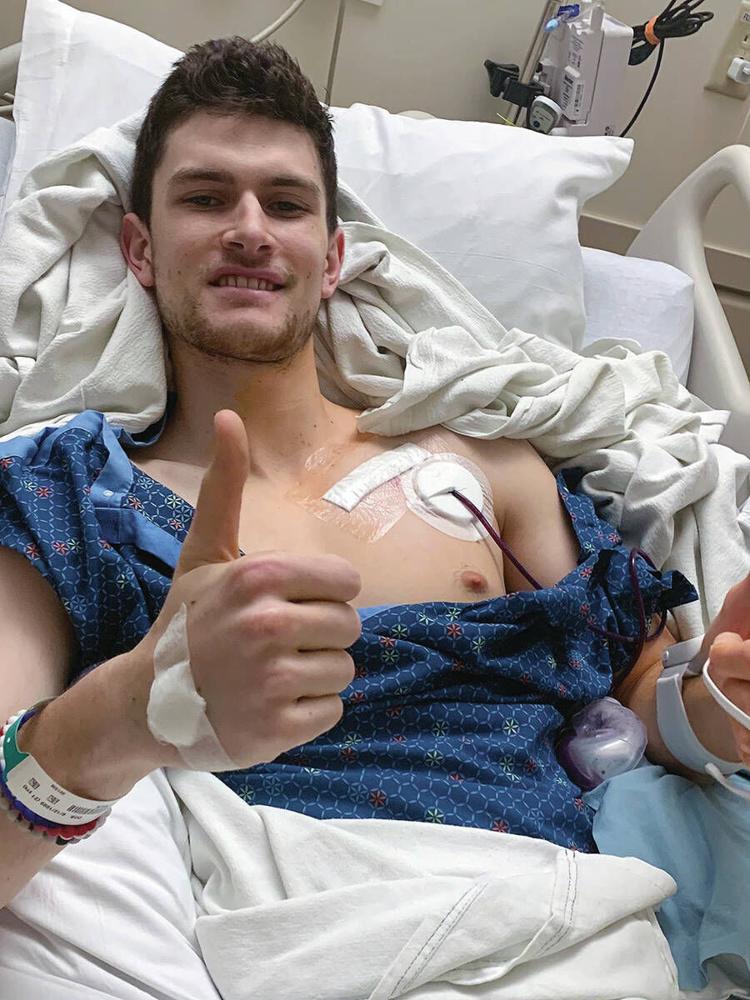 "I was just praying the blood clot wasn't going to become problematic," said Greenan, the former 2017 Record Baseball Player of the Year who helped pitch St. J Academy to the Division I title in 2016. "Baseball wasn't really on my mind when I found out about it.
"I was definitely nervous."
Greenan returned home to St. J on Thursday and expects to make a full recovery by mid-March — just after the college baseball season commences.
Thrown a curveball to end an already topsy-turvy 2020, Greenan spoke with the Caledonian-Record about his recent journey, his setback and his plans for a baseball comeback.
"It's tough," Greenan said. "I was feeling good about where I was with my development. Then this happened. But I'll work hard and get to where I need to be."
After a frustrating freshman and sophomore pitching campaign at St. Lawrence in 2018 and 2019, Greenan set his intentions to add velocity to his fastball. He was throwing 80-81 miles per hour as a college sophomore, "not much harder than in high school," he said.
Greenan first connected in 2019 with Brud McCabe, father of former St. J Academy teammate and friend, Eamonn McCabe. They worked on pitching mechanics that would promote arm health. Getting help from his St. Lawrence coach as well, Greenan's velocity began showing improvement.
After the 2020 baseball season was canceled because of COVID-19, Greenan returned to the NEK and linked up remotely with PFA Baseball, a California-based company whose philosophy centers around creating an optimal arm path for pitchers. He had shortened his arm path by taking ground balls and doing drills to improve his sequencing and making him feel more connected.
"They put a lot of focus on being athletic and throwing like a shortstop or quarterback," Greenan said.
Meanwhile, Greenan worked hard on strength training with Adrian Guyer at XIP in Lyndonville. He also got an assist from a pair of locals.
St. J Academy welding teacher Jason Mitchell gave Greenan access to his welding garage — a warm place to throw when the weather turned cold. And John Prue built Greenan a pitcher's mound in exchange for helping coach a fall baseball team.
"That was such a great tool to have," Greenan said. "I actually had it in my grandpa's backyard and would throw bullpens off of it in the fall."
It was all coming together recently for the 6-foot-4 Greenan. His frame pushing 205 pounds, his fastball was up 6-7 mph and reaching 88.
He was in a prime position for the 2021 spring baseball season and excited for his role as the St. Lawrence ace and a team captain.
"The timing is unfortunate," Greenan said. "Now, I am on the shelf."
Greenan first started experiencing symptoms around Christmas, his left arm red and swollen. The pain was minimal, but it was pretty uncomfortable, he said.
"I took a day off from throwing last week, and it just ballooned right up," Greenan said. "The first person I texted was Chris Despins [St. J athletic trainer] on New Year's Eve. He checked me out and said, 'it didn't seem right.' He thought it was an infection or blood clot."
Greenan went to Northeastern Vermont Regional Hospital the same day and had an ultrasound. It revealed a blood clot — a vein pinched by the first rib and the collarbone. He was taken by ambulance from NVRH to Dartmouth-Hitchcock.
Thoracic outlet syndrome — an injury not uncommon with baseball players — is a group of disorders that occur when a vein or nerves in the space between the collarbone and the first rib (thoracic outlet) are compressed. It can cause pain in the arm, shoulder, and neck and numbness in fingers.
On Saturday, Greenan had a catheter stuck into his arm to help break up the clot. He had venous thoracic outlet surgery on Monday — doctors removing his rib and a muscle to free up the nerves and allowing them to function.
Looking back, Greenan was incredibly thankful for Despins' insight.
"There are not many high schools in a position to have a guy like Chris," Greenan said. "For me to be a college athlete a few years removed from high school and to be able to go right in and have him check me out. I am so grateful. I didn't know what else to do. His opinion and the clarity he gave me was huge."
Greenan can start throwing lightly in a month. He expects to be back to 100 percent in mid-march.
If there is a 2021 baseball season, Greenan is hoping to return to the mound as his team's top arm — he only pitched three innings last year in the same role before the pandemic ended the season. He'll be a team captain again.
"Coach proposed I just be as good a captain as I can be and take care of my body," Greenan said, noting if he plays or not, he won't lose a year of eligibility, a rule passed by the NCAA amid the pandemic.
He already has a game plan to get back on the bump.
"I have to rehab smart and once I come back, it will be all about managing workload," he said. "I've already built it up, so it will be easier to get back.
"I'll be trying to break down the 90 mph door and that's going to take a lot of work."
Whatever happens this coming season, Greenan insists he'll keep chasing his baseball dreams.
"I'm a lefty with a mid-to-upper 80s fastball," he said. "I'm not satisfied and I have a lot more growing I need to do. I've put myself in good position and I am not ready to walk away with two years of eligibility left."
The new year could not have come fast enough, especially for Greenan.
"My biggest takeaway is how fortunate I am to have people that support me, especially my parents," Greenan said. "They've always been very supportive of me and have encouraged me to push myself.
"Moving forward, I will focus on getting my health back knowing, I have so many people that care. I'll continue to be the best captain I can be to my teammates and I'll keep pushing myself to get better every day and closer to my goals as a baseball player."