Parents: Sonya Sansoucy and Donny Corrigan
Siblings: Lauryn Corrigan, 14; Kaylee Corrigan, 11
Varsity Sports: Soccer, basketball, tennis
• The dynamic senior striker tallied 28 goals and 15 assists, surpassing the 1oo-point career scoring mark and finishing high school with 112 points.
• The Record Girls Soccer Player of the Year, Granite State Conference North POY and a Division IV All-State first-team selection.
• In a matchup of D-IV unbeatens on Oct. 20, Corrigan tallied three of her four goals in the second half to fuel Littleton to a 4-1 statement victory over Woodsville.
• Trailing 2-0 at halftime in the state championship against defending champion Sunapee, Corrigan tallied the Crusaders' first goal in the second half to trigger their epic comeback. LHS tied the game in regulation, then ultimately won in penalty kicks to cap an undefeated 15-0 season and bring the school its first state championship since 2012. The Crusaders are the first New Hampshire girls soccer team to rally from a two-goal deficit in a state final and win a championship in 126 championship games.
"She is usually one of the smallest girls on the field, but she goes hard and knows how to use her body to shield from defenders and look for the right pass or shot," said her coach Clinton Brown. "She has always had good skills. She played with more confidence this year and didn't think she had to do it all. That's what I loved about her play. If she didn't have the shot, she knew who did and would find them.
"Olivia peaked this year. Showing mental toughness, having confidence in our new defense, not taking on the entire role and allowing her teammates to excel at the same time was a special thing to watch."
Describe the 2020 soccer season
Unforgettable. I will always remember my coaches, Clinton Brown and Tristan Tuite, and my other seniors I've played with since the beginning.
Favorite game of the season
My last, against Sunapee because we never gave up.
It was either my 100th point or my goal against Sunapee in the championship.
Favorite team to play that you didn't get a chance at in 2020
Not my favorite team, but one team I wish we played was Newmarket.
Biggest obstacle, other than COVID, you had to overcome this season
Myself. I tend to break down and get inside my own head, but my teammates were so positive and helped me stay in the games. Lauren McKee was definitely there for me during those times.
Something others may not know about you
I'm terrified of mascots.
Biggest influence in soccer
I've had a couple of schools reach out to me about playing, but no one has caught my eye. I will attend college, playing soccer or not.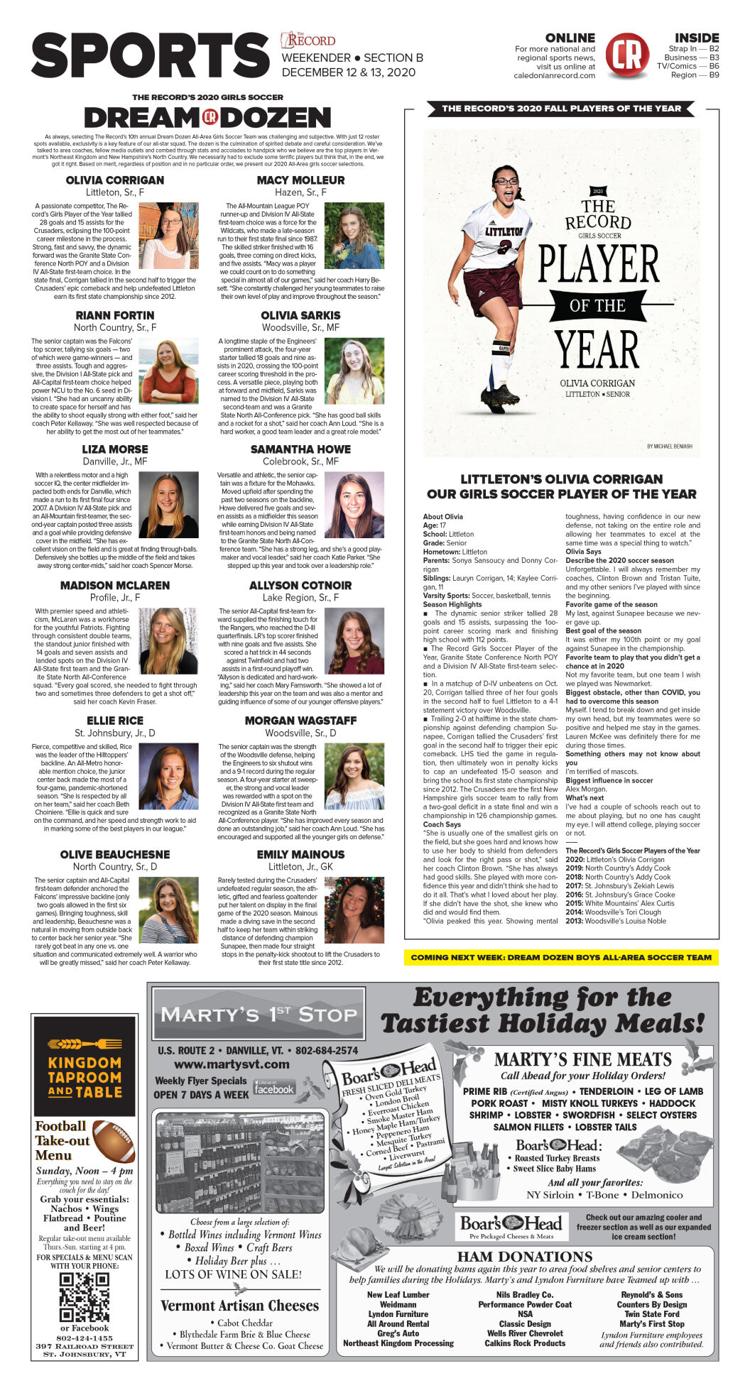 The Record's Girls Soccer Players of the Year
2020: Littleton's Olivia Corrigan
2019: North Country's Addy Cook
2018: North Country's Addy Cook
2017: St. Johnsbury's Zekiah Lewis
2016: St. Johnsbury's Grace Cooke
2015: White Mountains' Alex Curtis
2014: Woodsville's Tori Clough
2013: Woodsville's Louisa Noble