If only Jack Young stuck to cross-country skiing.
Well, that wouldn't be any fun.
North Country Union's starting quarterback in the fall is also a starting outfielder and a pitcher on the Falcons baseball team in the spring. He races mountain bikes and has a deep love for backcountry skiing, too.
The 6-foot-1, 180-pound Young, however, is most prolific on cross-country skis, and he was the alpha high school skier in Vermont this winter.
The 17-year-old junior swept the Division I classic and freestyle titles at the Vermont high school Nordic ski championships, was an D-I All-State selection and grabbed a top-20 finish at the 2020 U.S. Ski and Snowboard XC Junior National Championships in Truckee, Calif.
Today, Young is The Record's 2019-20 Nordic Skier of the Year — the second straight winter he's earned the honor.
"If I didn't play football, I'd probably be a faster skier," the Jay native said. "But there are things you take away from playing team sports. You become an all-around better athlete and teammate."
Young's path to glory this winter was as smooth as freshly-waxed skis through snow.
He won the D-I 5K classic at Rikert Nordic Center on Feb. 20, finishing in a time of 13 minutes and 31.6 seconds to beat Essex runner-up Charles Martell by 6 seconds. The third-place skier, Brattleboro's Declyn Tourville, was almost a minute behind Young.
Four days later, Young won the 5K freestyle at Camp Ethan Allen in Jericho, besting runner-up Henry Thurber of Brattleboro by 3-plus seconds to become the first to sweep the boys titles since Brattleboro's Isaac Freitas-Eagan captured the twin titles in 2018.
It was Young's second straight freestyle state championship.
"If I had to grade, I'd give my season an A-plus," Young said. "Funny thing is in this sport, it is almost always sickness that you have to overcome, but I stayed healthy the entire season. It went pretty perfectly."
Young's adoration of the outdoors is a catalyst for his success.
"First of all, I love the training for Nordic because it's how I want to spend my summers — mountain biking, running, roller skiing, strength training," he said. "I have such a great group of people to train with at Craftsbury [Nordic Ski Club].
"And I just love racing, any sort of racing."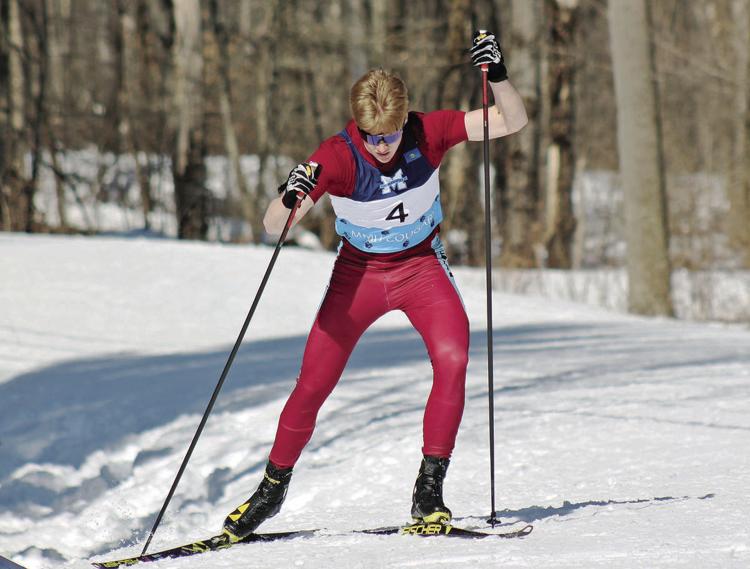 "One of the awesome things about Jack is that he plays and excels in a huge diversity of sports," said Anna Schulz, his Nordic club coach at Craftsbury. "He's used to so many different competitive environments that he never seems to get nervous or stressed, but instead approaches every race with calm confidence.
"And Jack is the sort of athlete that always takes note of other people's successes, rather than just focusing on his own — he always shows great sportsmanship."
Young's been lucky to have an older sibling to help pave the way. Jack's sister, Callie, is a former three-time Record Nordic Skier of the Year and is currently a sophomore Nordic skier at Dartmouth College.
"My sister inspires me because she pretty much has done everything with skiing that I want to do," Jack said. "It's also great now that I am starting to look at colleges and talk to college coaches because Callie has already been through that process."
Jack finished his Nordic season in early March at the U.S. junior nationals in Truckee, Calif., qualifying via the Eastern Cup club circuit. Competing in the 18U division, Young took 18th in the sprint and 28th in the 10K classic.
Young, however, didn't get to race in his last two events, the 10K freestyle and 3K classic relay, as the meet was shutdown halfway through because of the coronavirus outbreak.
But that's OK. When Young returned home to Vermont, he strapped on his downhill boards and went backcountry skiing.
Parents: Meredith and Chris
Siblings: Callie Young, 20
College ambitions: Compete in Nordic skiing.
Who wins a sprint, you or sister, Callie: Me. Haha.
What kind skis do you run on: Fischer, for now.
Tell me about your background in XC skiing growing up: Started at the Newport BKL program then eventually got involved with Craftsbury.
Favorite moment/run from the season: Second place at a New England wide competition where my previous best result was fifth.
What are you looking to get better at in the offseason: Endurance. Lots and Lots of running.
Who was the toughest competitor you faced this season: Jack Christner from Middlebury. We were neck and neck in almost every race this year.
Nordic or alpine skiing: Downhill recreationally, Nordic competitively.
Favorite venue to race at in Vermont/U.S.: Favorite overall is the sprint course in Waterville, Maine. It suits my racing style very well.
What are you doing to pass the time now that in-school instruction is canceled: Backcountry Skiing!
What are you doing currently to stay prepared physically: Backcountry skiing, but also some strength training and running.
Dream skiing destination: Salt Lake City, Utah.
Any regrets or anything you would change about your recent season: I wish that the second half of Junior Nationals hadn't been canceled.
What's the best advice you can give to young athletes: Listen to your coaches and parents. Also when you are feeling lazy, push through it.
Where do you see yourself in five years: In a job where I can do the things I love, like backcountry skiing and mountain biking.
The Record's Nordic Skiers of the Year
2019-20: Jack Young, North Country Union
2018-19: Jack Young, North Country Union
2017-18: Callie Young, North Country Union
2016-17: Alex Lawson, St. Johnsbury Academy
2015-16: Callie Young, North Country Union
2014-15: Callie Young, North Country Union