Raised in the Rockies, Emerson Bell raised her game in the White Mountains this winter.
A former top youth Ski Cross racer from Crested Butte, Colorado, the Franconia teenager had a breakout season on the high school alpine ski circuit.
Fast and fearless, the Profile School freshman claimed a bevvy of top finishes this winter. At the two most prestigious events, Bell charged to third place in giant slalom at the Eastern High School Championships at Cannon Mountain's Mittersill race venue on March 7, and captured the slalom title while taking second in GS at the New Hampshire Meet of Champions on Feb. 20, also at Mittersill.
Prior to that, Bell, a Granite State North all-conference selection, grabbed second in slalom and fourth in GS at the Division IV state championship at Mount Sunapee on Feb. 12, helping the Patriots edge rival and runner-up Lin-Wood 749-733 for their third straight D-IV title and 22nd overall.
"Emme Bell totally crushed it this season," Profile coach Phil Boone said. "Her full commitment to ski racing really shows in the focus she brings every day on the hill. Practice or race day, she always strives to improve and is never satisfied with less than her best."
There's one more top podium finish for the 14-year-old Bell: The Record's 2019-20 Girls Alpine Skier of the Year.
"She has always been a smooth skier, but Emme's other coaches and I have been blown away with how aggressively she has started skiing in the course, really attacking the fall-line and looking for all available speed," Boone said. "Pushing your limits takes guts and how you react to failure shows character — she pushes her limits every run and uses her (seriously nasty) crashes to learn from and never lets fear hold her back."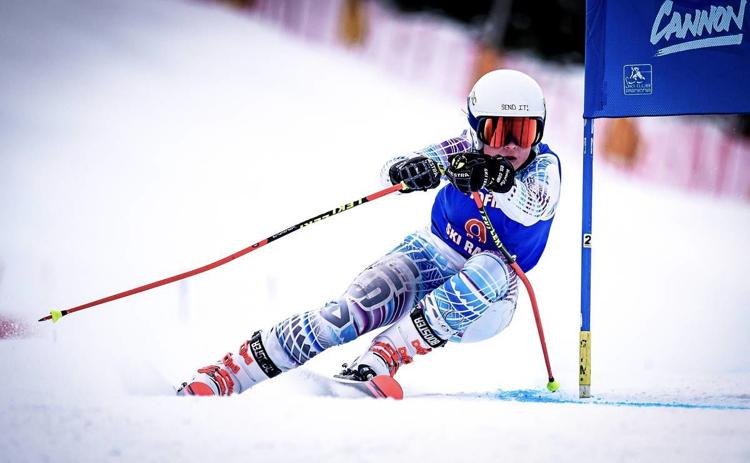 Bell grew up in Crested Butte, a bustling ski town in Colorado's Rocky Mountains. Nine-thousand feet above sea level, Bell learned to ski before she could walk. As a kid, the took up the sport of Ski cross — a downhill ski race for four to six athletes on a winding, undulating course that includes jumps.
She was good, making nationals as an 8-year-old [Ski cross was a bigger sport than ski racing in Colorado, she noted].
But, Bell said: "The competition kind of died out. I was winning most of my events and I wanted something new. Some of my friends were switching over to ski racing and I gave it a try. I ended up loving it."
Bell started alpine ski racing at age 9. Her family moved from Colorado to Franconia to be closer to family when Bell was 10. She's been racing with Franconia Ski Club since.
"It's all about the friends you make on the team," Bell said of her love ski racing. "I love the travel. I love going fast, the thrill of racing, of pushing yourself and having fun."
Skiing is in Bell's blood. Both her parents currently work for Franconia Ski Club. Her mom, Rebecca, skied for FSC and raced in college for Plymouth State.
Living in the White Mountains has been a good match for Bell, despite the move to a smaller mountain, a smaller town.
"The biggest difference between Crested Butte and Cannon is the vertical elevation (12,170 feet at the peak); there's much more backcountry-type skiing there," Bell said. "A top-to-bottom run there takes a couple hours; a top-to-bottom run here takes 15 minutes."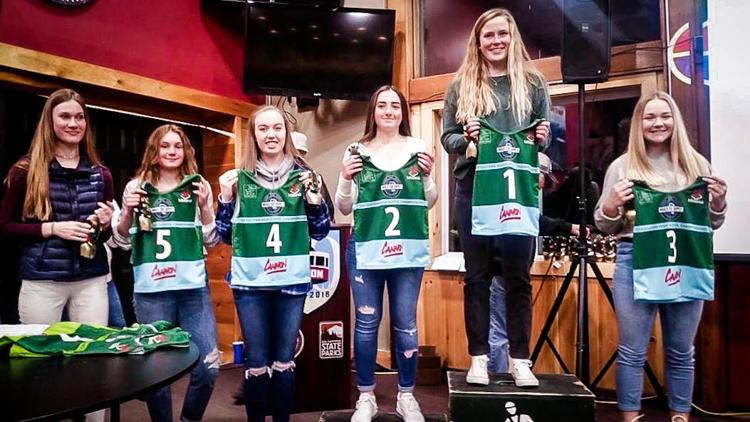 A defender on the varsity girls soccer team this fall at Profile, Bell skied varsity for the Patriots as a seventh- and eighth-grader.
She's steadily improved with age. This season, Bell broke out, winning three regular-season races before finishing with a flurry of strong results.
"By the end of the season I was really happy with my skiing," Bell said. "I do wish I had more time to work on my slalom, but I am definitely happy with my improvements."
It's only the beginning for Bell.
"I can't wait to see how fast she'll be next year," Boone said.
Parents: Rebecca and Brian
Siblings: Tucker Bell, 10
College ambitions: I'm not sure about what college, but I do know I want to be able to ski.
What kind/size skis do you run on: Rossignol SL-156; GS-182.
How did you feel about the year the team had: I feel like the team did really well this year. We had a lot of athletes in the top five and top 10 that we didn't last year. And those results were consistent through the season.
How would you grade your season: I'm really happy with my season, states was not my best skiing but it was also about the team and I did what I needed to to help us win. I would say it's a solid A-plus season.
Are you surprised to have this much success as a freshman: I wasn't surprised by making MOC, but what happened from there definitely surprised me. I had no clue what the competition was going to be like with it being my first year, so I didn't go in to the races excepting to win. I just went in knowing I would have to ski my best.
Favorite moment/run from the season: My favorite run was definitely the GS at the Eastern H.S. championships. I love skiing Baron's, especially in GS. It was a beautiful day and I got to spend it doing what I love.
What are you looking to get better at in the offseason: I'm planning on focusing on my fitness and strength and I'm looking to get stronger in hopes that it will help me next year.
Who was the toughest racer you faced this season: My top competition was probably my own teammate, Sophie Bell [no relation].
Who inspires you in ski racing: Everyone that I race against helps to inspire me. I'm always able to learn from them, while at the same time being pushed. If someone beats me in one race I look at what they did and what I could of done better.
Freesking or ski racing: Unless it's a powder day, I will always choose racing.
Favorite mountain/run to freeski: I love freeskiing upper Cannon and upper Ravine, the way you can just let everything go it's so much fun.
Favorite mountain/run to race: My favorite race run is Baron's (Mittersill), there is a bit of everything pitch, trail turns and flats.
What are you doing to pass the time now that in-school instruction is canceled: I'm still continuing school through remote learning, when I'm not doing school, I'm either doing something to stay active or baking.
What are you doing currently to stay prepared physically: I've been going on road bike rides, doing at home workouts and hikes.
What's the best advice you can give to young athletes: Don't forget to take a second to enjoy yourself, but don't forget to try hard and don't give up.
The Record's Girls Alpine Skiers of the Year
2019-20: Emerson Bell, Profile School
2018-19: Lena Sauter, Lyndon Institute
2017-18: Chiara Bachfischer, St. Johnsbury Academy
2016-17: Daniela Sormova, Lyndon Institute
2015-16: Daniela Sormova, Lyndon Institute