St. Johnsbury native Hillary Gerardi made history in the Alps last weekend.
Gerardi and Valentine Fabre became the first women to complete the Haute Route, a prominent traverse spanning the iconic mountain towns of Chamonix, France and Zermatt, Switzerland in one push.
Running, hiking, skinning, skiing and rappelling, the record-setting pair traversed over 66 miles and made 26,600 feet of vertical gain, including climbing and descending over eight passes, in just 26 hours and 21 minutes.
"Traditionally, the Haute Route takes about a week," said the 34-year-old Gerardi, an accomplished Skyrunner and mountain athlete who graduated from St. Johnsbury Academy in 2004. "So my first interest was in shortening that and doing it over a few days. I've always liked drawing lines on maps and seeing if my body could take me to these places I dream of.
"I would say that my interest really got piqued when I learned that there was a series of men's records that have been set and then beaten over the last few decades. But there was no women's record."
In completing the demanding, dangerous and unrelenting route, Gerardi and Fabre are trailblazers.
"When I think about what motivates me for this kind of stuff, I often think about the question: who are the mountains for? Who gets to do this kind of challenge? The fact that this famous traverse had never been done before by a woman makes it hard for women to imagine and project themselves in that role.
"It wasn't until relatively recently that I became confident enough to say, "I want to be the first woman to do this," with the full hope and understanding that it will help open the way and the imaginations of other women to do the same."
According to Doug Mayer at the online site Run The Alps, Bastien Fleury and Olivier Meynet hold the men's record. Choosing a different route, their 2016 record stands at 16 hours, 35 minutes. Others have taken the route that Fabre and Gerardi picked.
Gerardi and Fabre's journey was two years in the making. It almost didn't happen.
"We had been planning to do it around this time in the season, but when, on Thursday, the French President Emmanuel Macron announced a new COVID-19 lockdown, we knew it was kind of "now or never," Gerardi said. "We were so lucky to have great weather for the short window we had and wouldn't have gone for it if the forecast hadn't been good. It's just too dangerous of a route to try if it's too hot, too cold, too windy, or low visibility."
The pair, two of the Chamonix Valley's strongest and well-known mountain athletes, started from the Saint Michel Church in Chamonix on Saturday at 2 p.m. and finished Sunday at the Parish Church of Saint Mauritius in Zermatt, Switzerland at 4:21 p.m.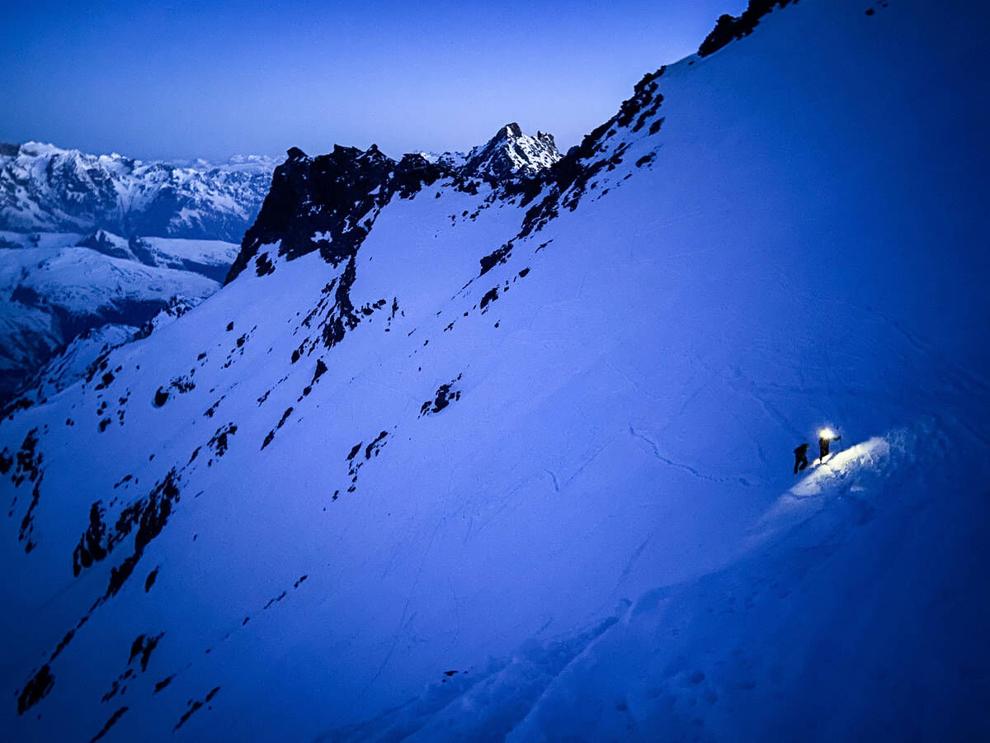 For much of the trip, they were above 10,000 feet and even ascended over 12,000 feet. The gear they each hauled through the Alps included skis, skins, poles, crampons, ski crampons, ice axe, harness, glacier rescue gear, helmet, headlamps, warm clothes.
"Just like any long activity, at some point, you get into a flow state," Gerardi said. "The couple of times that I found myself really flowing and moving seemingly effortlessly were definitely high points. Also, anyone who has spent sunset and sunrise in the mountains knows it's really incredible to see the light changing in such beautiful environments. We were up over 3,400 meters high in the mountains and the light was so beautiful."
"The only real adversity was Valentine getting super sick at the end. She spent the last two hours unable to keep any food down. She was deep in the pain cave. It was a tough time to put our heads down and keep going. That was the biggest low for the two of us."
Gerardi, a Middlebury College alumna (2009), lives with her husband, Brad, in Servoz, France, and works for the Research Center for Alpine Ecosystems (CREA Mont-Blanc) in Chamonix.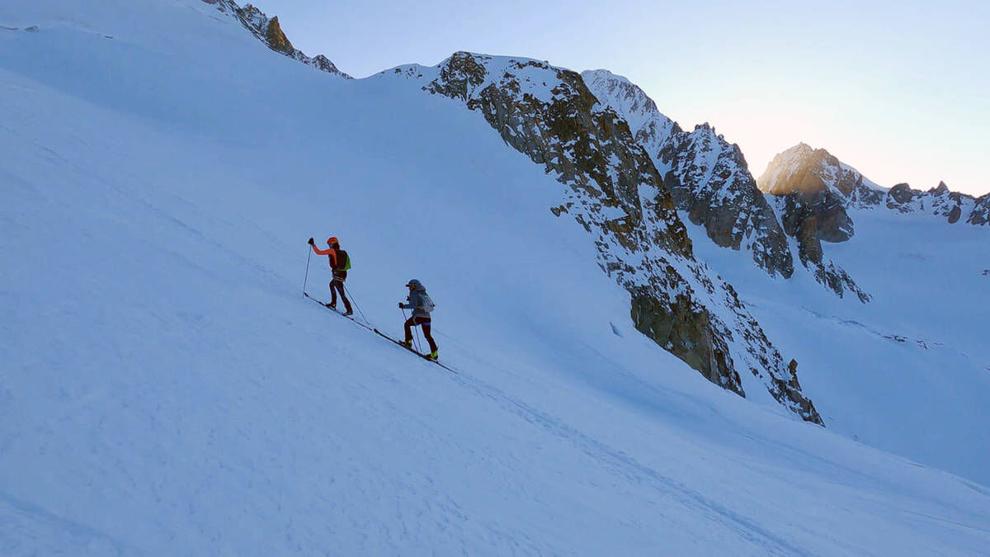 Sponsored by Black Diamond and Scarpa, Gerardi made a name for herself athletically as an elite Skyrunner. She won three of the sport's toughest races in 2018: the Tromso Skyrace (Norway), Trofeo Kima (Italy) and Glencoe Skyline (Scotland), among others.
In 2019, despite battling through injuries, she finished sixth overall in the Skyrunner World Series. The 2020 season was cut down because of COVID.
While Gerardi stars in Skyrunning, she's game for any mountain exploration.
"This was a pretty new kind of challenge for me since I've never done such a big ski traverse before," Gerardi said. "The effort itself is very different from the shorter Skyraces I've done because rather than going all out intensely, you really have to pace yourself if you want to make it to the end.
"For this kind of project, the probability of success is quite low because so many different elements have to line up perfectly for it to work. When you set off for a running project, you need to be fit and have good weather. In order for this to work, you need to be fit, be well acclimated, have a battery of gear that doesn't break, know the route well (it's navigating across glaciers in big mountains, not on a trail with blazes), have a good support team, have good weather, good conditions and a good track set, low wind, low avalanche risk, enough snow in the valley … the list goes on.
"I think that's why I was so motivated by the project and why I'm so proud that we achieved it. It's a physical challenge for sure, but the whole strategic and logistical puzzle makes it really complete."
Gerardi's competitive future is uncertain because of the pandemic, but she's signed up for a few races, including the Mont Blanc Marathon — a 90km jaunt that is one of the world's most iconic trail races.
"It's hard to know right now whether or not they'll be able to hold events," Gerardi said. "If there are no races, I always have projects in mind to combine endurance challenges with moving through mountains."