It's Hunter Verge's calling card.
"What you put in is what you get back," he says.
Well, for the 19-year-old St. Johnsbury Academy senior, it was back-to-back-to-back-to-back.
The 5-foot-4 Verge, dubbed "Mighty Mouse," capped an extraordinary high school wrestling career with a historic senior campaign.
At the top of his impressive resume: becoming just the second-ever Vermonter to win four state titles in four different weight classes (Spaulding's Phillip Kerin, 1995-99).
Verge today adds another historic feat to his belt: The Record's 2019-20 Wrestler of the Year; the first athlete to win the newspaper's player of the year honor four straight seasons.
"As a dad, I am proud as a peacock," said St. J coach Mike Verge. "As a coach, Hunter is the ideal kid to coach. His work ethic and commitment is second to none and his desire to be his best self is incredible."
The greatest wrestler in St. J history, Hunter Verge also etched his name in Vermont lore this winter.
After handling Vergennes' Aidan Gebo 9-0 in the 126-pound final at the state state wrestling championships at Mt. Anthony High School on Feb. 26, Verge became the 11th Vermont wrestler to win four state titles and the first for St. J.
He won at 106 pounds as a freshman, 113 as a sophomore and 120 as a junior.
Headed to compete at Division I Clarion University (Pa.) in the fall (the Academy's first D-I wrestling signee), Verge also became just the state's 13th wrestler to reach 200 wins, scoring victories 199, 200 and 201 at the NVAC Dual Championships on his home mats on Feb. 15.
"Being apart of the 200-win club is one of my greatest accomplishments," Verge said.
He's the first wrestler not from powerhouse Mt. Anthony to accomplish the feat.
"What sets Hunter apart, I would say his commitment and work ethic," said Mike Verge. "There are a lot of talented athletes out there, but aren't willing to put the extra time in. Even with what we are facing now, gyms are closed, wrestling facilities closed, but he still trains at home everyday in our home gym. When you drive by you may see him doing ladders in the driveway or shadow drilling in the backyard."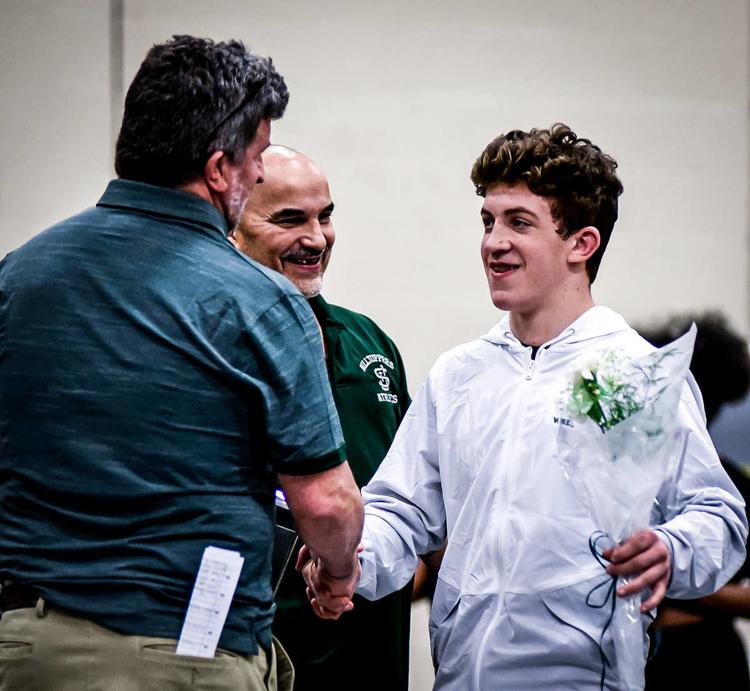 After breaking St. J's all-time wins record as a junior, Verge went 52-7 this season and finished with a career record of 205-18.
Verge's varsity career ended with a fifth-place finish at the New England Championships in Methuen, Mass., on March 7-8. The lone title that eluded him, Verge was seeking to become the second Hilltopper to win a New England crown (Jeff Nummelin, 145 pounds in 1980).
After opening New Englands with two straight wins in the 126-pound championship bracket (3-2 over Zachary Johns of Suffield, Conn.; 6-2 over Parker Sutton of Glastonbury, Conn.), he fell in the semifinals to Matt Joyce of Ponaganset, R.I., 3-0.
In the consolation bracket semifinal he dropped a 5-1 decision to Andre Fallon of Bishop Hendrickson (Mass.) before winning the fifth-place match 9-6 over Tyler Johnson of Danbury, Conn.
Verge equalled his best finish at New Englands when he was fifth in the 113-pound division as a sophomore.
"Although I would have liked to win a New England title," Verge said, "I felt good about my performance and ended my high school career on a high note in the toughest weight class in New England."
College destination: Wrestling at Division I Clarion University (Pa.). Studying early childhood education.
Favorite moment from the season: Winning my fourth straight title (four different weight classes) and enjoying the accomplishment with my family.
You surpassed the 200-win mark this season, how did that feel: That was one of my goals for the year, my 200th win. Being a part of the 200-win club is one of my greatest accomplishments.
Did you face adversity prior or during the season: Working through an injury and being off the mat for a week was a challenge. It is the first time in my wrestling career that I have been off the mat. I listened to the doctors and recovered quickly.
Who was the toughest wrestler you faced this season: Max Leete from Danvers (Mass.)
How much does your diet change from in-season to out-of-season: My diet has totally changed. Although I try to eat healthy, if I want to have Ben & Jerry's ice cream, I can because I know that I don't need to weigh in.
Favorite meal to eat during the season: My mom's breakfast burrito.
What about in the offseason: Shepherd's pie.
If someone on the St. J wrestling team became a pro wrestler, who would it be: Wilder Hudson.
Who would win a St. J wrestling Royal Rumble: Zebb Winot.
Any regrets or anything you would change about your high school wrestling career: I don't have any regrets. I feel like my accomplishments speak for themselves and I really do feel like I left all I had on the mat at New Englands. If I could change anything, it would be to win New Englands.
Now that the season is over, what's your plan for the offseason: Train hard this summer to get ready for Clarion. I am also looking forward to spending time with family and friends this weekend. This is the first summer I have been home in four years. The last four summers I have been training in Pennsylvania and Ohio.
What are you doing to pass the time now that in-school instruction is canceled: Homework in the morning, workout in our home gym in the afternoon and enjoy my family in the evening.
What's the best advice you can give to young athletes: What you put in is what you get back.
Where do you see yourself in five years: Competing at the NCAA championship.
The Record's Wrestlers of the Year
2019-20: Hunter Verge, St. Johnsbury Academy
2018-19: Hunter Verge, St. Johnsbury Academy
2017-18: Hunter Verge, St. Johnsbury Academy
2016-17: Hunter Verge, St. Johnsbury Academy
2015-16: Liam Hayden, White Mountains Regional
2014-15: Dominic Hahr, St. Johnsbury Academy
2013-14: Dylan Shattuck, St. Johnsbury Academy