Josie Choiniere finished her St. Johnsbury Academy basketball career with 1,359 points, the second most in program history.
But she was much more than a scorer.
The 17-year-old senior was a distributor, a playmaker, a game-changer.
Most importantly, she was a leader.
The lone returning starter back for the two-time Division I state champion Hilltoppers, Choiniere was tasked with piloting a squad with two freshmen in the starting five.
"It started right away in practice," said 25th year Academy coach Jack Driscoll. "She set the tone making sure everybody had high expectations, even though we lost a lot from last season."
The 5-foot-8 Choiniere put the Hilltoppers on her back.
And the do-it-all point guard had herself a season.
Choiniere led the team in every category: 19.6 points, 7.6 rebounds, 3.0 steals and 2.8 assists while playing 31 minutes per game.
It translated into a better-than-expected season for the Hilltoppers.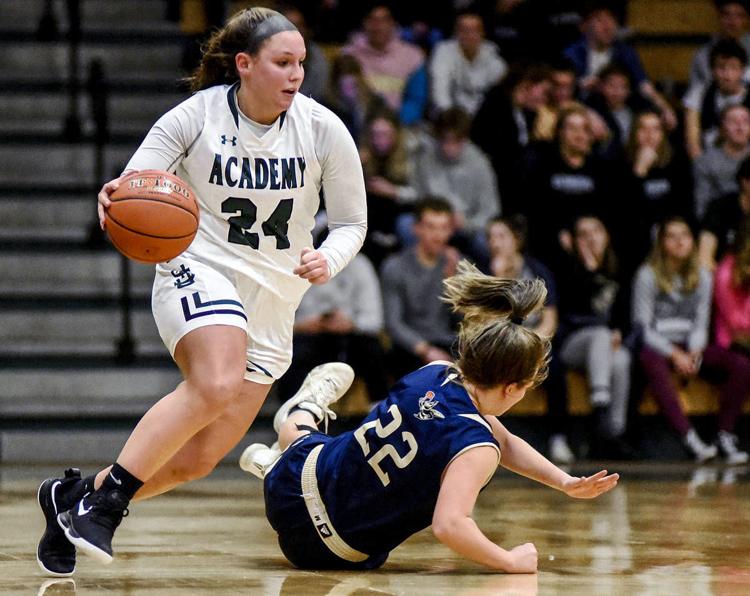 The four-year captain led the team to 13 regular-season victories, including a seven-game win streak.
"Ending with 13 wins was certainly above what a lot of people expected of us," Driscoll said. "We started the season with two losses on the road and that could have been demoralizing for any team, but Josie made the point that we weren't going to accept that."
The Hilltoppers went on to earn the No. 4 seed in the Division I tournament.
"We definitely came together as a team this year and I am most proud of that," Choiniere said.
St. J's season ended in the quarterfinals, a tough 31-29 loss to No. 5 Rutland. It denied Choiniere a chance at a fourth straight trip to the final four.
"The loss was disappointing," she said.
Choiniere won't, however, be denied a final prize: The Record's 2019-20 Girls Basketball Player of the Year.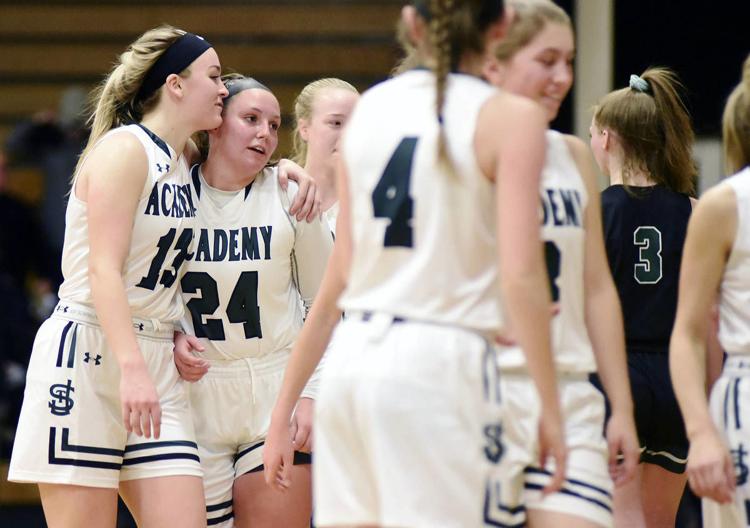 "Josie leads our team in every important statistical category, and she leads our team in heart and competitiveness," Driscoll said. "She has been a leader in games, practices and in the locker room. She has led with her unwavering commitment to excellence."
Choiniere finishes her varsity career as a four-year Record Dream Dozen selection, four-year All-Metro first-team choice and our two-time Girls Basketball POY recipient [won the award as a sophomore].
She went to three state championship games, including winning two state titles in her sophomore and junior seasons.
"Josie is a nightmare to game plan for," said Essex coach Shawn Montague. "She scores at all three levels exceptionally well."
Choiniere scored 26 points at home this season against Essex, the No. 2 seed in the D-I tournament. She netted a career-high 32 points in a 54-37 win at Spaulding on Feb. 14.
"She can shoot the three from anywhere on the floor," Montague said. "She can attack the rim and get layups and if she doesn't get those she's getting fouled, and she is an excellent free-throw shooter. She is a fierce competitor."
Choiniere surpassed the 1,000-point milestone on Jan. 6, hitting a baseline runner — her signature shot — in a 44-34 win over Rice.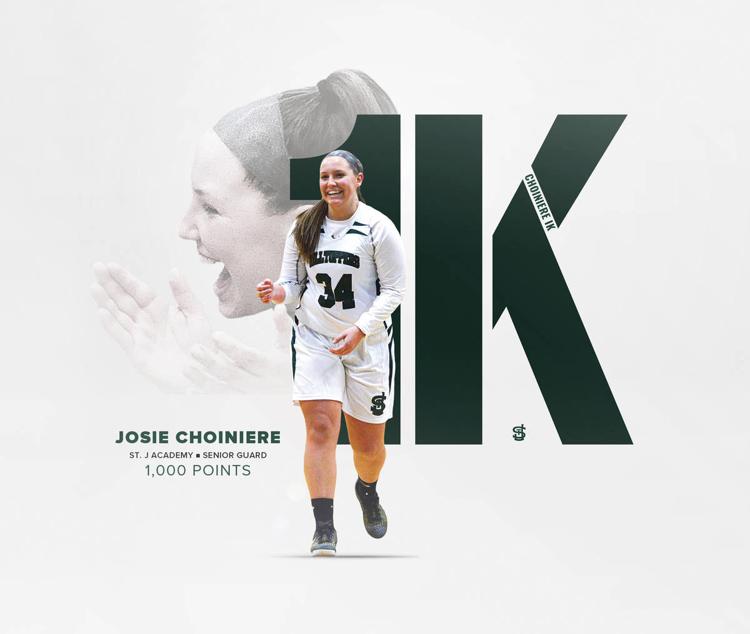 Six weeks later, Choiniere became the No. 2 scorer in St. J girls history. In a 44-29 road win over Rice on Feb. 22, Choiniere moved ahead of former teammate Sadie Stetson (1,280) into second place in career girls scoring at the Academy, behind only Kim Silloway (1,523) on the all-time scoring list.
"I think that's pretty special," Choiniere said of her point total. "Not a lot of high school girls have done that and it's something I can be proud of."
Choiniere will be attending St. Michael's College in the fall, with an academic focus in business and psychology. She is still deciding whether or not to compete for the Purple Knights' Division II basketball program.
Nonetheless, she's one of the best to ever play in the Northeast Kingdom, right there with Stetson, who graduated in 2019 and earned a scholarship at D-I American University.
"They are the two best players I've had here," Driscoll said. "They both have made their mark on this program in their own way."
Parents: Beth and Marc Choiniere
College destination: Saint Michael's College
How did you feel about the year the team had: I think that we had a pretty good year and we showed a lot of improvement as a team. However, the quarterfinal loss was disappointing.
Favorite moment from the season: My favorite moment of the season was our senior night because we played well as a team and beat a tough BFA team. It was also a special night for all the seniors on our team.
Who was the toughest competitor you faced this season: I think Essex was our toughest competitor because I felt we didn't match up well against them and they defended not only me pretty well, but our team as a whole. Individually, CVU's Mekkena Boyd was hard to guard and she can do a lot of things on the floor. She's a hard player to defend and she is very quick and very smart as a defender.
Who inspires you in basketball: I don't think I have one single person who inspires me, but I would say the team that I was on this year was one of the best ones I have ever been on. The teammates that I had always kept positive and their heads up even when things were not always working out for us, and I would say that they are some of the people who have inspired me the most. I also think that coach Driscoll was a really good example of being positive and pushing us to be the best team we could be at the end of the season.
What's your favorite shot/move: Favorite shot would have to be a baseline runner.
What are you doing to pass the time now that in-school instruction is canceled: Online classes, spring cleaning, hiking and Netflix.
What are you doing currently to stay prepared physically: Just trying to stay as active as I can with what is going on, such as doing hikes.
Which SJA player wins a 3-point contest: We have had some pretty good shooters recently, but I think I would have a pretty good shot at winning this.
Which players would you put on a St. J girls all-time dream starting five: I would say last year's state championship team.
What's the best advice you can give to young athletes: Always work hard. Working hard can go a long way for you both playing basketball and in the classroom. I also would say learn how to be a good teammate. If you have the ability to do both, you will be a contributor to your team regardless of your skill.
The Record's Girls Basketball Players of the Year
2019-20: Josie Choiniere, St. Johnsbury Academy
2018-19: Sadie Stetson, St. Johnsbury Academy
2017-18: Josie Choiniere, St. Johnsbury Academy
2016-17: Sadie Stetson, St. Johnsbury Academy
2015-16: Emma Bogardus, Littleton High School
2014-15: Madison McNamara, Littleton High School
2013-14: Tyrah Urie, Lake Region Union
2012-13: Makenna Burke, Groveton High School
2011-12: Riley Blankenship, Lyndon Institute
2010-11: Kelley Collins, Groveton High School