When Lizzy Jones performs in gymnastics, she commands attention.
A fierce competitor, the St. Johnsbury Academy sophomore has a lot of winning traits. Skill, strength and courage among them, Jones cemented her status this winter as one of Vermont's premier high school gymnasts.
Starting the season with seven straight wins in all-around competition, the 16-year-old Jones won uneven bars and was second on vault en route to taking second place in the all-around at the Vermont state high school championship.
Today, Jones is The Record's 2019-20 Gymnast of the Year, the first recipient of this award.
"Lizzy has focus, perseverance and courage; speed, strength, power and agility; all attributes that great athletes need. But she is also funny, a team player and gracious," said St. J coach Beverly McCarthy, whose Hilltoppers started the season 7-0 and took third at the state meet behind Essex and champion CVU.
The drive to win fuels Jones.
"The competitiveness of it, that's what I love the most about the sport," said the Barnet native. "I am super competitive. I just have lot of fun doing it."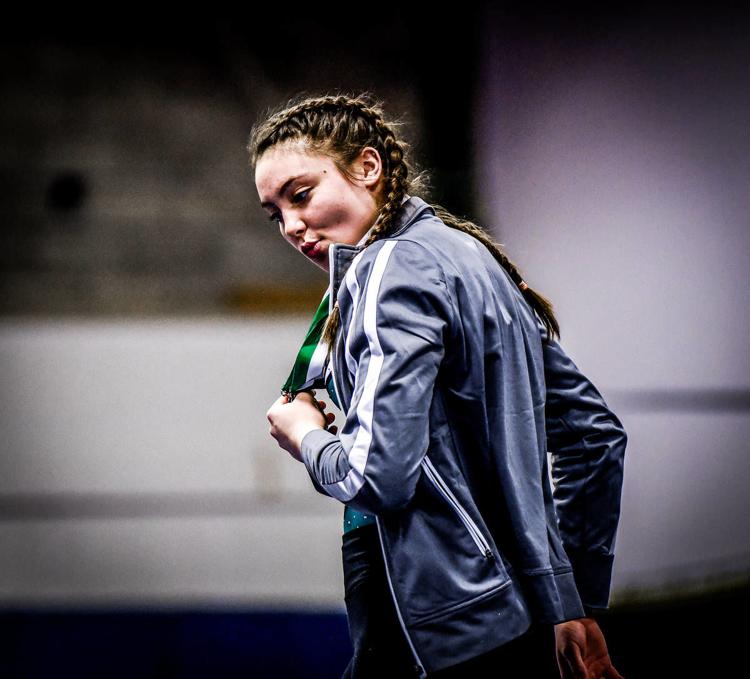 Competing in the sport since age 9, gymnastics is a year-round effort for Jones, who also competes on the club circuit with Donna Reed of Kingdom Gymnastics. Jones is also a track and field athlete at SJA, competing in pole vault and triple jump.
But gymnastics is where she thrives.
She possesses two skills — on beam and vault — that not many others in Vermont do.
On beam she is the lone Vermont high schooler to perform the difficult back walkover-to-back handspring connection pass. She is also one of the few competitors to perform and land a tsuk vault.
"She sacrifices normal teenage things for training in the gym five days a week, year-round," McCarthy said.
Jones' favorite event, uneven bars, is also her best event. She went undefeated this season with a high score of 9.4.
"She really seems to fly," McCarthy said. "Her bar skillset is so strong and fluid and this only happens through hours of practice."
At the state meet, Jones won uneven bars with a 9.25, was second on vault with a 9.2, was fifth on floor with a 9.2 and didn't place in beam. She finished second, a mere .125 points behind champion and CVU senior Tali Guibardo. The two were tied heading into the final event.
Jones was humble in defeat.
"Some athletes would have sulked after working that hard and earning the top spot all season then landing in second place at states, but she genuinely congratulated the gymnast who placed first," McCarthy said.
Second place, though, still gnaws at Jones.
"Tali had a really good day," Jones said. "My beam was a little bit lacking. I will definitely be spending more time practicing on beam."
Any regrets from that day?
"I think I was really focused on Tali's scores instead of keeping my focus on my own."
Another lesson learned for Jones, who will have two more seasons to chase her championship ambitions. As a freshman last winter, she returned from a broken hand to take third place at the state meet.
"Lizzy came into high school as a good athlete. She was strong, a hard worker and gutsy," McCarthy said. "But there is a difference between a good athlete and a great athlete. An athlete moves towards greatness when they understand that they are capable of more, and are willing to deliberately and consistently put in the effort to achieve something despite the difficulties and failures. I think the difference between freshman and sophomore year is that Lizzy found that understanding."
Jones wanted the title, but just missed. There's no doubt she'll come back hungrier.
"Gymnastics is full of difficulties and failures. You fail again and again and again," McCarthy said. "You have to be able to handle that. Lizzy does, and does it with humor.
"She missed that top spot at states, but she was rightly proud of her performance overall. And I was proud of her for her attitude."
Parents: Jennifer Jones and Robert Stone
Siblings: Cassie, 28; Nathan, 25; Derek, 22; Brandon, 18; Kyle, 13; Skylar, 10; Annabelle, 10; Addalyn, 4 months
College ambitions: University of New Hampshire, with a scholarship for outdoor track or gymnastics.
Favorite moment from the season: All the bus rides because they were the best way to start every meet.
Did you face adversity prior or during the season: I had to learn to handle my nerves.
You had high expectations for yourself this season. How do you feel like it went: I feel like it went pretty well. I had my second best meet at states and I couldn't be happier with how it turned out.
You were runner-up at the state meet. How will the result fuel you for next season: I'll just have to push myself a little harder.
Who was the toughest gymnast you faced this season: Champlain Valley's Taylor Hoar and Tali Guibardo.
Now that the season is over, what's your plan for the offseason: Upgrading all my skills.
Who inspires you in the sport: Simone Biles.
What's your favorite and least favorite event: Favorite is uneven bars. Least favorite is beam.
What are you doing to pass the time now that in-school instruction is canceled: Walking my dog and running.
What are you doing currently to stay prepared physically: Home workouts.
Any regrets or anything you would change about your recent gymnastics season: Not getting that close with some of my teammates.
What's the best advice you can give to young athletes: Always try to push to your limits and even try to push them further.
The Record's Gymnasts of the Year
2019-20: Lizzy Jones, St. Johnsbury Academy