Tommy Zschau strung together a pair of blistering slalom runs at Smugglers' Notch in early January.
For the St. Johnsbury Academy junior, they were game-changers.
Zschau's first varsity alpine ski racing win on Jan. 7 helped kick-start a special winter for the 16-year-old.
"It surprised people a lot that I had never won before," Zschau said. "But it was a huge confidence booster for the season. Once I got that first win it was a turning point that I could just go for it and do it."
Zschau captured the slalom crown at the Vermont high school alpine ski championships at Suicide Six on March 3, a day after snagging fifth in the giant slalom at Killington on March 2.
A 2019-20 Vermont All-State and NVAC All-District selection, he was the top-rated Vermonter headed into the Eastern High School Championships and skied to 12th place there in GS at Cannon Mountain's Mittersill's race venue on March 8.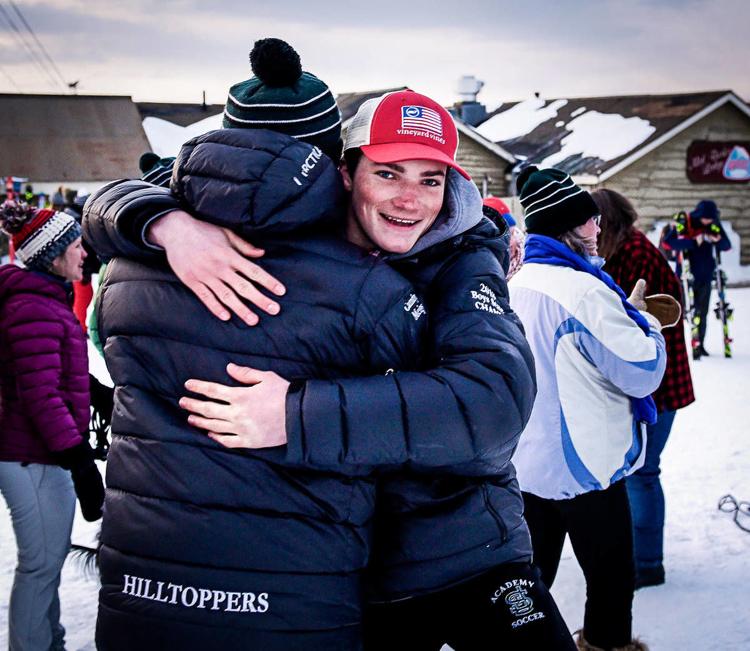 "Tommy was consistently good all season," said St. J coach David Eckhardt. "He is very competitive, but also has a great ability to read a hill or course. This translated to his most successful high school season. He has emerged as a leader on our team and is a pleasure to coach."
Zschau, who bagged a handful of regular-season triumphs, also swept the NVAC slalom and GS district titles on Feb. 24-25, leading St. J to a team win at Burke Mountain.
"This was the best ski season I've ever had," Zschau said. "I won my first race ever, made it through injury free, and capped it off with an individual state championship. If I had to grade it, I would give it a B-plus; I still have an overall and team title to chase."
Last winter, the 5-foot-11, 150-pound Zschau overcame a hip flexor injury that forced him to miss a handful of races. But he returned to lead the Hilltoppers to their second consecutive state team title.
The St. J boys just missed the championship three-peat this winter, falling to South Burlington by a mere four points.
"Overall it was a super fun year," Zschau said. "It was a bummer not to three-peat, but we had other notable wins, like NVAC Districts and various regular-season races. I think that the fact that we lost this year will only give us more determination for next year."
Zschau did his part, though. And he cleared some major mental hurdles that had plagued him in the past.
"There are a lot of things to be afraid of in ski racing," Zschau said. "In high school, it's more about finishing your run for the team to do well. In years past, I was holding back, trying to contribute for the team. This year I realized if I let go of that fear of not falling and not finishing, and skiing for the moment and for myself, I could do better individually, which helps the team.
"It was a new thing for me, letting go and skiing more aggressively."
Zschau also better managed the sport's stress.
"Ski racing is intense, hard, competitive. The pressure got to me when I was younger," he said. "But I just started to work with it. That's why this season was so good for me because I was able to handle the pressure better."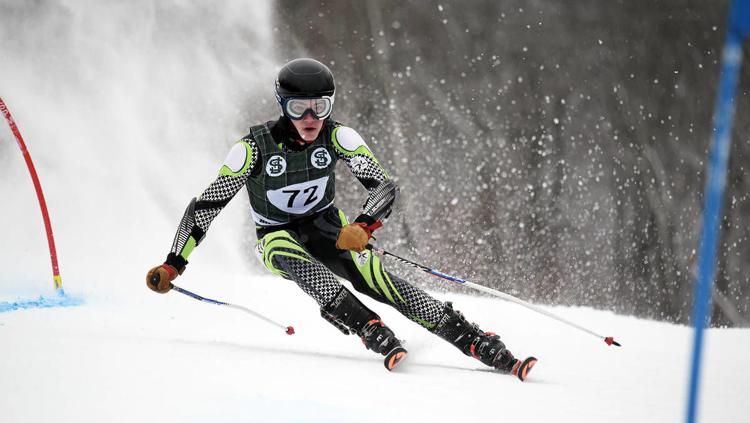 He found the right balance this winter.
"He is aggressive, but controlled," Eckhardt said. "This is why he is such a good slalom skier."
Zschau was a starting midfielder for the St. J soccer team in the fall. He plays club soccer for Capital Soccer Club in Montpelier.
"Skiing in general I like more; I've had a passion for it longer," he said of the two sports. "But as I head into college, soccer is more of a focus point for me."
Zschau began skiing when he was 3 and started racing when he was 10 in the Burke Mountain weekend program. He skied for Burke Mountain Academy in eighth grade but ultimately chose St. J Academy for high school.
"It was the best decision I've ever made," he said.
College ambitions: No plans yet, but would like to play college soccer.
What kind/size ski do you run on: Blizzard 165 cm slalom; Blizzard 184 cm GS.
Background in skiing: I started skiing with my mom when I was 3. I started racing when I was 10 in the Burke Weekend Program. I quickly fell in love with the sport and started to train more with BMA. In eighth grade I decided to go to the Academy and do high school skiing instead of USSA skiing, and it was the best decision I've ever made.
Favorite run from the season: The first run of the NVAC District slalom race. I won the run by two seconds. I felt extremely confident in my skiing and it was definitely my best run of the season.
Did you face adversity prior or during the season: I missed about half of the season last year due to an injury. So coming into this year I was lacking a little in confidence. Other than that I was prepared for the season.
What are you looking to get better at in the offseason: It's somewhat hard to improve my skiing ability over the summer months. I'm just looking to get stronger as an athlete in general.
Who was the toughest competitor you faced this season: There were a lot of really strong guys this year. There was always a strong competitor within the top 10. I think Brody Chipman from MMU was one of the toughest guys to beat.
Who inspires you in ski racing: I really admire Bode Miller's ability to let go and ski without fear. I also look up to the young Americans on the ski circuit: River Radamus and Ben Ritchie.
Freesking or ski racing: A day where I can do both is a perfect day.
Favorite mountain/run to freeski: Mad River Glen
Favorite mountain/run to race: Middlebury College Snow bowl
What are you doing to pass the time now that in-school instruction is canceled: Doing schoolwork, watching old ski movies.
What are you doing currently to stay prepared physically: Trying to stay in shape at home, biking/running, some ski touring up Burke.
Who is the team's best freeskier: Cody Van Dine.
What's the best advice you can give to young athletes: Follow your passions and have fun along the way.
Where do you see yourself in five years: Finishing college and skiing powder on big mountains.
The Record's Boys Alpine Skiers of the Year
2019-20: Tommy Zschau, St. Johnsbury Academy
2017-18: Jack Sampo, Profile School
2016-17: Jack Sampo, Profile School
2015-16: Caleb Genereaux, Lyndon Institute
2014-15: Caleb Genereaux, Lyndon Institute
2013-14: Matt Valentine, Lyndon Institute